Do you know what I realized? It's been way too long since I've shared a recipe, created a new recipe, or spent more than 10 minutes in the kitchen prepping my meals.  Part of that is because I'm a creature of habit, part because I'm a single gal cooking for one, and part because I've been working so many later nights and by the time I get home from work, I'm too tired and hungry to take time to cook.  This often means my dinners consist of the following:
Eggs on toast with a side salad
Sweet potatoes with peanut butter and cinnamon
Giant garbage bowl salads with whatever is left in the fridge
Don't get me wrong, there is nothing wrong with these dinners.  In fact, they're some of my favorites, but lately I've found myself craving Mexican food but not really having the time or energy to cook.  So yesterday as I thought about what I wanted for dinner, I decided it was time to feed my need for a taco salad, but in a new way.
Since we didn't have any jarred salsa and I was not up for trekking out to the grocery store, it was time to do what I could with what I had.  And guess what? It turned out to be a super easy and delicious salsa!
Easy Peasy Homemade Salsa
Keywords: blender appetizer side snack Mexican
Ingredients
1 can Fire Roasted Tomatoes
1/2 tsp minced garlic
1/4-1/2 tsp cumin
1/4-1/2 tsp chili powder
1/4 tsp crushed red pepper
splash lime juice
salt & pepper
Instructions
Combine all ingredients in a food processor or blender and blend for 15-20 seconds. Adjust spices to taste.
Put in the fridge for the flavors to marinate before eating.
And instead of my usual tempeh taco filling, I decided to finally try roasting chickpeas – add a little taco-inspired seasoning and these were fantastic!
Fiesta-inspired Roasted Chickpeas
Keywords: chickpeas Mexican
Ingredients (serves 3)
1 can chickpeas
1/4 tsp onion powder
1/4-1/2 tsp chili powder
1/3-1/2 tsp cumin
Drizzle Olive Oil
Instructions
Drain and rinse chickpeas and allow to air dry on a clean kitchen towel.
Spread on parchment paper covered cookie sheet and put into a 375* oven for 45-60 minutes, until crunchy.
Put into a small bowl with a spices and olive oil and mix into covered.
Enjoy as a snack or on a taco-inspired salad.
One day, two recipes – this has to make up for my lack of recipes lately. 😉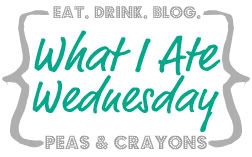 Have you tried roasting chickpeas?
What have you been craving lately?