We've all heard breakfast is the most important meal of the day and you know what?  It's no urban legend – it's true!  And in all honesty, I've never been one to fight breakfast; I love it so much I often eat it for breakfast, lunch, and dinner! 😉
But in all seriousness, it's true – breakfast is an important part of your day and definitely not something to miss.
Eating breakfast helps you feel more energized, less tired, and more focused
Eating breakfast starts your day on the right foot, leading you to make healthier choices throughout the day, consuming more nutrients.
Eating breakfast gets your metabolism started for the day and therefore, breakfast eaters are less likely to battle obesity
Sources: Huffington Post, EveryDay Health
Seeing as I usually wake up hungry in the morning, I don't have to worry about "forgetting" or convincing myself to eat – I'm hungry, I want food! But I know it's not always that easy for other people but I'm a believer that it's all about getting into a rhythm and planning ahead for those mornings when breakfast needs to be on the go.
We all know my favorite breakfast – whole wheat english muffin (or toast) with peanut butter and smashed banana – and don't forget that side of coffee!
I'm also all about a delicious and comforting bowl of oatmeal…
Or pancakes for those mornings when I have a few extra minutes…
But then there's those mornings when you oversleep, you're running late or for whatever the reason may be, breakfast needs to be on-the-go.  Those mornings require a little planning and having some quick and easy options available.
Overnight oats are a great make the night before option but take with you the next morning…
And breakfast bars are great to just have on hand all ready to go…
Speaking of breakfast bars, I had the opportunity to test out the CORE Foods Meal Bars  and I honestly believe they're great for those on-the-go mornings.  And to make it even better, they have SIMPLE ingredients so you know exactly what you're eating.
CORE Foods recommends having 2 glasses of water with each bar to feel as if you're having a big hearty bowl of oatmeal.  When I first tried one of these bars, I was surprised I wasn't hungrier earlier.  I thought I felt hunger coming on early in the morning but realized I hadn't quite had the recommended water so I drank up and was fine.
The bars taste pretty good (just a bit dry) but with my coffee on the side it wasn't bad at all and I enjoyed my breakfast.  These would also be great for traveling!
Breakfast is the most important meal of the day with many delicious options – why question it when you can eat up and enjoy?!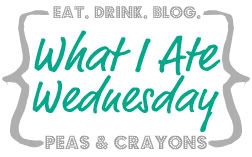 Are you a breakfast eater?
What is your favorite breakfast?