I'm in the middle of a busy week, though I swear every week feels pretty darn busy lately.  I've got a lot going on on the back end of things – chiropractor appointments, writing, planning, researching, training, and working at the coffee shop.
But since it's Wednesday, I have to share some fun and delicious eats with you.  As a reminder, this is not all I eat in a single day as there are snacks un-pictured.
Breakfast: English muffin with peanut butter & banana with a side of coffee with almond milk

Snack: Chocolate covered strawberry protein smoothie

Lunch: 0% Plain Chobani with blackberries, cereal + granola and a sprinkle of raisins (I promise there's greek yogurt under there). 😉

Dinner: Loaded sweet potato with peanut butter, cinnamon and Greek yogurt
TASTY!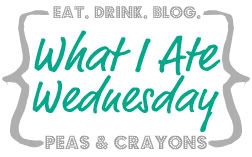 And as for that smoothie…seriously delicious!
Chocolate Covered Strawberry Protein Smoothie
Keywords: blender snack beverage strawberry
Ingredients (serves 1)
1 scoop vanilla protein powder
1-2 TBSP cocoa powder
2/3 cup almond milk
5-6 strawberries, sliced
handful ice
Instructions
Combine all ingredients in a blender and blend.
Sip and enjoy.
Also, I won a giveaway on Lauren's blog and was sent this amazing care package from the kind folks over at KIND.  THANK YOU SO MUCH!
Don't forget to enter my Chobani giveaway!
What delicious eats have you had this week?