I happy to report the rain of last week has subsided (at least for now) and while the occasional afternoon shower is possible, the torrential downpours have been replaced with slightly cooler temperatures and sunny skies.  I'll take it.  I'll also take the beautiful scenery and lush landscape that came from it.  It really made for a pretty run Monday morning.
Let me tell you something about me…I'm a creature of habit and while I can handle change, there's some things that just throw my whole day off. For starters – breakfast.  I need it every morning. (Obviously this is good because it's the most important meal of the day…)
And while the actual breakfast may vary slightly, it's usually some combination of nut butter, banana and coffee, so when we were out of bananas Tuesday morning and I made myself oatmeal with lots of cinnamon, sunflower seed butter and blueberries, I hoped for the best.  And let me tell you, that combo is delicious.  But I missed the banana.  Thankfully we got some bananas in the office in the afternoon and I had one for a snack.  My day just isn't complete without that potassium kick.
My day also isn't complete without a salad, preferably a giant garbage bowl salad or this edamame quinoa salad I made last week tossed with a big bed of lettuce.  So good!
I'd also gladly take a giant salad from the Whole Foods salad bar any day!  This salad was incredible but I especially loved the baby kale that was hiding underneath all those delicious toppings.  Mmmm!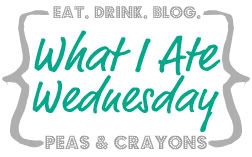 Any foods that you need every day in order for it to feel complete?
What tasty eats did you enjoy this week?