Imagine this going on around you:
But imagine this is all you hear:
There's only one thing that can make that happen.  Yoga.
If you haven't noticed through the past few Fitness Fridays, yoga hasn't really been present in my workouts.  Quite honestly, that's not okay.  And I've felt the effects.  Mentally, physically, emotionally. Something's got to change.  There's got to be more yoga.
Thankfully, just as I was really feeling the effects, Courtney decided to start a June yoga challenge.  And since there's no better time than the present, I'm hopping on board.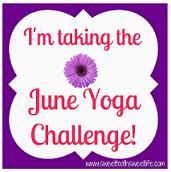 My goal?  Get back to yoga at least 3 times a week. Doesn't matter how long, it just has to happen.  I started on Sunday – 20 minutes completed.  And it was glorious.  Absolutely glorious.
In fact, I'm off to do more yoga as soon as I hit publish and finish my breakfast!
Do you enjoy yoga? Would you like to join the challenge?