I fully intended to post yesterday.  I was sure it was going to happen midday if not first thing in the morning.  But as you may or may not have noticed, it never happened.  And honestly, that's okay. In fact, it's more than okay because I've been living life.  I'll get more to what's been going on at a later date, but for now, I figured it's time to share what I've been eating lately.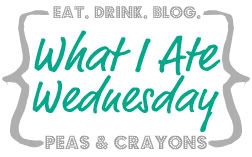 With my busy work schedule, I decided to get ahead this week and do some major food prep on Sunday.  As part of my prep I hard-boiled eggs, cut up veggies and a whole watermelon and made a loaf of my
cinnamon banana bread
. This didn't take much time but has already made lunch, dinner and snack prep so much easier!
Before I get to my meals, I should point out that several of the veggies in my meals this week are coming from my parent's garden.  While I've loved grabbing lettuce from the garden right before making a salad, it's fun now that other veggies are coming in.  I even spent an hour or so in the garden yesterday picking beans, pea pods, cucumber, broccoli, kale and zucchini.
Now onto a few of my eats:
PB&J with cherries.  I couldn't figure out what I wanted to eat for lunch so after snacking on some veggies with hummus (not pictured), I decided pb&j sounded the best.
It was so nice out, I was able to convince my dad to grill shrimp.  Alongside we had some leftover quinoa and stir-fried pea pods and onions.  So good!
My hard-boiled eggs have been a bit disappointing as the entire egg peels away when trying to remove the shell.  I'm not sure what I did differently this time, but clearly I did something.  Good thing they still taste good. 😉
I was originally thinking about having veggies burgers this week but after seeing these veggie sausages at Trader Joes this week, I decided that was really what I was in the mood for.  And honestly, it's been amazing, especially with beans and broccoli fresh from the garden. YUM!
Definitely some delicious eats this week and I can't wait to eat more of those goodies fresh from the garden!
What yummy eats have you had this week?
Do you have a garden full of goodies?