Can you believe it's December?!
 November was a veeerryyyy busy month and I'm excited for what's to come in December and there's definitely no sign of it slowing down.  But I'm going to wait a few days before sharing just in case.  Don't want to risk jinxing anything!
Anyway, since it's December and the holiday season is in full swing, I wanted to take a moment to talk about accountability for healthy-living through the holiday season.  Now trust me, I understand it's not easy.  We're invited to parties, surrounded by delicious foods and sweets treats, and there's temptations every way you turn. It just doesn't seem fair.
But here's the thing.  We spend the whole year saying "all things in moderation" – it doesn't change now.
I can admit that I have a major sweet tooth.  Salty treats are generally take-it-or-leave-it but not sweets.  They're almost always a must-try so when there's plates and plates of Christmas cookies or pies, it's hard to keep it in check.
And that doesn't mean I don't indulge.  Do I have some? Yes.  Do I go crazy? No.  Because like I said, it's about all things in moderation.  That could mean I try a few different treats, but maybe I'll share with someone else or make sure I only grab a small slice.
But it isn't just about food.  It's also about exercise.
I'm a firm believer that you need to keep moving.  It may get harder to make time, so then we need to be sure we're making the most of the time we do have and we need to hold ourselves accountable.  It may not be easy, but this is our health we're talking about.
So how do we stay accountable?
Well, first and foremost join in on the Fitness Friday linkup party.  There's no better way to keep yourself motivated and accountable than through the support of the community.
Also, join in challenges.  I've seen several different holiday challenges floating around the blog-o-sphere but there are two in-particular I decided to join – Courtney's 2012 Closeout and Janetha's Dedicated December.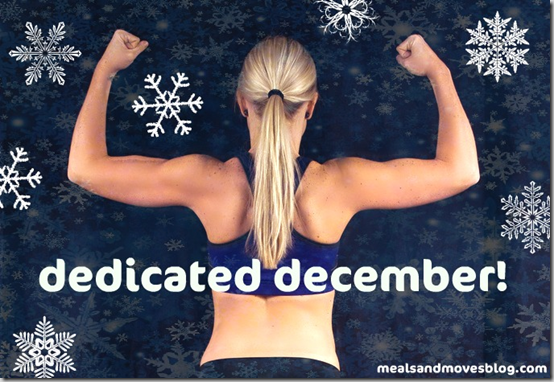 Join Fitness Friday or don't. 😉  Join a challenge or don't.
But hold yourself accountable and make sure you continue to get out there and move while still enjoying some treats and fun (in moderation). 🙂
Happy Holidays!
How do you stay accountable through the holidays?
What are your holiday stay-healthy tips?