I'm exhausted – physically and mentally, and the only thing getting me through is my day off on Friday!  It's this goal that is still a few days away but not so far it seems out of reach.  Part of the reason for my physical exhaustion was Monday's 11-hour workday (don't ask) and the two hours I had splitting up my day was spent at the gym running a really rough 4 1/2 miler.  A night of less-than-great sleep, a second 3:30 am wake-up call, another 7 hours on my feet, a tough leg workout, and then an hour of shoveling snow.  At least I know how to do it in style… 😉
1/2 marathon training is really pushing my body to new limits and this week is re-assuring that point while also bringing in the struggles associated with working a job that has you on your feet without a break.  I'm really trying to be mindful of how my body FEELS so as to not push it beyond what it's actually capable of AND being sure to stretch and foam roll often.
It's also safe to say, my appetite has been creeping up more and more.  When things are slow at work, I know I need to be mindful of "boredom snacking" or dehydration versus "real" hunger but thankfully, I'm usually a pretty good judge.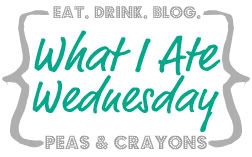 I decided to participate in WIAW again this week and share some of my favorite snacks I've been enjoying the past few weeks.  I get on kicks with different food items and right now, I just can't get enough of these:
Smoothies:
Despite the cold, a smoothie always sounds good!  I haven't had that many, but I assure you my body has been CRAVING them.
Yogurt with granola:
My lunch 99% of the time is a yogurt bowl with fruit and cereal or granola.  This often means I don't have yogurt for a snack as well but since Chobani sent me some of their new Bites, they've made a perfect snack!  I love the new flavors so much, it's possible I've had yogurt for a snack AND lunch on the same day. 😉
Apple & Celery with peanut butter:
Does that ever get old?  I don't think so!
Or an apple with a side of an apple oatmeal muffin is also always a great choice.  These have been in the freezer and I took them out to enjoy this week.  Just as good!
Rice cakes with toppings:
Now I'm all about a rice cake with a simple peanut butter smear, but why not mix some peanut butter (or PB2) with a 1/2 scoop chocolate protein powder and a splash of almond milk to make frosting?!  Top with a handful of granola or raisins…
…or strawberries!
YUM!
What are some of your favorite snacks lately?