I feel like I have SO much I want to talk about and share with you today that I have to split up my posts between days or you might be reading for the next several hours… 😉  And since it's Wednesday I am going to make sure I share some tasty eats with you but first I want to talk about the jar of good things.
Not that kind of good things, though it IS good…I mean this kind of jar of good things:
The idea?
I've seen this idea floating around the internet for a few weeks now and as soon as I saw it, I knew I wanted to join!  I saved the image to my computer and kept it open for weeks so that I would remember every time I saw it.
Here's what my jar looks like:
And did you notice, it's already got something in it! 🙂
Anyway, I promised some tasty eats and I have to say with my parents being out of town, I'm loving cooking for myself again.  While I appreciate the free groceries and endless home-cooked meals, I'm itching to get my own place again and do all my own grocery shopping and cooking.  I'm confident 2013 will help me get there sooner rather than later.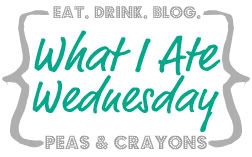 So with that, here's some of what I've been eating:
After craving sushi for weeks, I picked up some California rolls from Trader Joes.  While I know not to expect much, they were a bit of a disappointment to the usual TJ's sushi quality, but still good.  Alongside I had a big greens salad with roasted brussels.
This was originally supposed to be a salmon burger with roasted brussels and sweet potato on the side but the salmon burger did NOT come out as anticipated.  Thankfully I had just finished making hard boiled eggs for snacks this week and smashed a few with some mustard for an egg sandwich.  So yummy!
This meal stole the show! After the New Years / Commitment Day run, we decided to go out for lunch somewhere in the city.  My friends were telling me about this place called Karyn's Cooked, a gourmet vegan restaurant that wasn't too far from the event.  They were raving about it so we HAD to go.  I got the falafel which was absolutely amazing; I nearly cleaned my plate!  Honestly, I can't wait to go back!
Hope everyone is having a great start to the New Year!
Any delicious eats this week?
Are you doing any fun ways to remember the good things that happen to you this year?