What a week! …I'm saying that and it's only Wednesday but I'm saying it with the best of intentions. It's been a busy, hard, but incredible week so far and I'm so excited to continue on this journey and see where it takes me.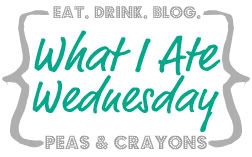 Anyway, I've had some incredible meals this week and I'm so excited to share them with you, so let's get on with this What I Ate Wednesday dealio…
I was hoping to share my pre-race eats with you guys this week but of course, I'm one of those bloggers that was never meant to be a food blogger (at least aside from a weekly post or the occasional recipe) and forgot to take pictures of my pre-race eats…except the dinner I ate the night before.
So what did I eat? Sprouted pasta with roasted tomatoes + hummus, sausageless sausage and green beans.  Yum!
Since crossing the finish line on Sunday, I'm sure you can imagine my hunger has been souring.  Here's a bit of the other deliciousness I've been eating…
More sausageless sausage…and I assure you, despite eating it right out of the pan, I did have a bunch of green beans + carrots with hummus on the side.
I've also been fighting a major craving for french toast so in my post-half hunger, I decided it was time to give in and it was so delicious.  No need for syrup, this was simply 1 egg mixed with coconut milk + cinnamon, cooked in coconut oil and topped with peanut butter and sliced banana.  With hot coffee with coconut milk on the side and I was a happy happy girl.
I've been dreaming up this soup for weeks…weeks I tell you and I was so excited to break out my new Ninja blender last night and cook up this deliciousness. You'll have to wait for the recipe later, but I assure you it's worth the wait and so easy!
While I don't eat Paleo, I have been doing some searching for some Paleo-esque recipes and after seeing a recipe for Mustard Balsamic chicken, I knew I needed to make it but using tempeh instead. So I did and it was delicious.  Not only did I have it with a side of roasted veggies, but the leftovers were a great addition to salads later in the week.
Definitely some great eats this week and I'm so excited that I'm changing up my meals more and getting back into the kitchen.
What delicious meals have you had this week?
What are your favorite meals to eat before or after a race?