Another What I Ate Wednesday because I've been finding these kind of fun!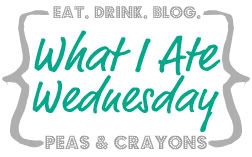 My meals are pretty similar with my usual breakfasts and lunches, only ever really changing it up at dinner time. And even then, only kind of. But I did have a few changes for this week's meals.
Breakfast: banana oatmeal with peanut butter, coffee with almond milk
Lunch: whole wheat pb&j english muffin with a side of cherries
Dinner: mexican rice – made with brown rice, black beans, roasted veggies and salsa. This was a delicious and totally semi-homemade (Sandra Lee style!).
Snacks: my usual vanilla banana peanut butter protein shake and (un-photographed) carrots with hummus
What were some of your favorite eats this week?
What semi-homemade recipes have you made lately?