First of all, can we believe it's AUGUST already?  July seemed to speed by and I'll be honest, I'm hoping August does the same.  I'm ready for September…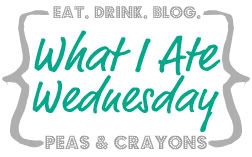 I tried to step outside the box this week.  I tried to
try
something new.  Or at least kind of new.  Or in a new way.  It was kind of fun.  Who knew?
As usual this wasn't all the food I ate in a day.  In fact, this food wasn't even all consumed on the same day but who cares?  I ate it and it was delicious.  Moving on. 😉
Breakfast:
 Taking my usual oatmeal banana and peanut butter breakfast to a new level this week meant adding in 1/2 scoop of FitMixer Chocolate Slim.  It adds a bit more protein (not as much as protein powder would) and tons of delicious chocolatey flavor.  Amazing!
Lunch:
Well this was my usual – yogurt, granola and berries.  I really don't think it gets any better and I can never get sick of this lunch, especially when there are so many Chobani flavors to choose from!
Dinner:
 I saw this on Instagram a few days ago and decided it would be a fun way to change up my normal egg and salad dinner.
Mine wasn't quite as photogenic but it was very delicious, especially with a side of toast and asparagus!
How did you change up your usual foods this week?