The adjustment around these parts is still taking place – at least for me.  I'm trying to get into a routine and eat as I usually would, but believe it or not, it's harder than I ever would have expected it to be.  But I'm doing my best and I guess that's what counts the most.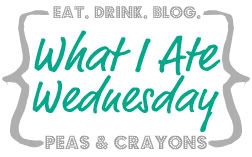 I'm going to keep with What I Ate Wednesday for awhile as I've really been enjoying it.  Hopefully you have as well.  And this week is going to be a little bit different.  I have a couple meals from my last few days in LA that I really wanted to share with you but didn't get a chance (+ yesterday's breakfast). 😉
Breakfast:
It's starting to feel like fall around here, especially in the early morning so a nice bowl of hot oats with banana and peanut butter alongside a cup of coffee is perfect!
Lunch:
I'm a lucky girl who has friends that when they're leaving give her a bundle of fresh veggies from their garden.  I was so excited to enjoy these tomatoes and squash.
I decided to simply sauté the squash with chopped tomatoes.  Then i had egg salad open faced on a whole wheat english muffin with arugula and sliced tomato.  This was so good it was repeated!
Dinner:
My lovely friends decided to take me out for dinner to BJ's for our last night together.  I got the salmon over a veggie rice medley.  It was absolutely delicious and didn't leave me too full.
And to top it all off, our waiter brought us each a small bazookie with ice cream (on the house)!  I decided to ignore the stomach ache that would most likely ensue and enjoyed every bite.
Apparently we made quite the impression on our waiter, because he made a rose out of a napkin that he dropped off with the bill.
It was a great last dinner with two of my favorite ladies.
What delicious eats have you had?