As a complete peanut butter crazed human being, I feel it's only necessary for me to share the extension on the peanut butter recall.  It's such sad news but I'm thankful that the peanut butter I've purchased and consumed recently isn't on this list, but I definitely hope this all gets cleared up soon so we can all enjoy our peanut butter again!
Anyway, let's get back to the point of today's post: food(!!) – ie: what I've been eating.  And please note all peanut butter in this post is on the "safe" list.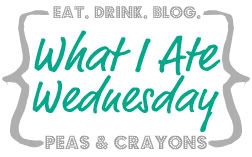 Breakfast:
OIAJ (oatmeal in a peanut butter jar) with bananas
And a semi-failed attempt at a homemade pumpkin latte…I'll keep at it.
Lunch:
An apple waffle sandwich – GENIUS!  Two frozen waffles with apple butter on one side, peanut butter on the other and sliced apples in the middle.  They'd be even better with a whole grain waffle but I used what I had.
Dinner: 
My dad made a delicious veggie stir-fry (with meat on the side for the meat eaters) and rice.
Snack:
I don't usually show my snacks (at least not all of them) but I've been testing out a few recipes this week (mostly failed attempts unfortunately) but they each had potential, especially a trial pumpkin oatmeal bread.  My parents liked it but it definitely needs a bit of work.
And then there's my new routine – evening tea, especially Yogi tea which has some great motivational quotes and reminders to bring some light to your day.  I enjoy the quotes almost as much as the tea!
There's definitely more recipes in my future as I'm working on some freelance projects, so stay tuned for more yummies!  In the mean time, make sure you check out the Recipes page – I'm still updating!
What delicious eats have you had this week?