Happy Wednesday everyone!
It's been one of those weeks where I feel like I've been insatiable.  No matter how much I eat, snack or drink water, I still feel like I'm starving.  My metabolism seems to be on fire.  I'm not complaining, but dang, this girl needs more food!
I haven't done much baking or cooking anything different or fun lately; I'm not sure why but I should change that.  Meanwhile, I've been trying to change up a few favorites at least slightly for added nutrition and to keep things interesting.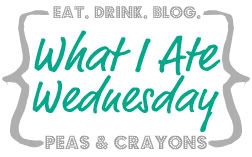 Breakfast
 Banana chia oatmeal with almond butter and coffee with soy milk
With a side of candle and flowers to start my morning off right
Lunch
My usual yogurt with fruit and granola (plus a couple un-pictured kiwis)
Dinner
Brown rice california rolls with a side of asparagus
Clearly this isn't everything I ate in a day.  I eat a lot more than this and as a part of the FitMixer bootcamp, I stick to 3 small meals and 3 snacks a day.
Are you more of a snack and small meal person or larger meals and little to no snacks?