I'm excited to share what was under this foil with you but first can I just say that I think I love The Biggest Loser? I've only watched part of episodes before but was really interested to see how they tackle childhood obesity this season.  Well after 2 episodes I've been a crying mess and while I may not need the motivation to get in the gym and workout, it's motivating me in other ways of my life and motivating me even more to help others get healthy.  I'm excited to see this season progress.
Anyway back to that mysterious package.  I should tell you it's not a healthy eat but there's certain times each year when it's okay to indulge a bit – like on a birthday  So under that tin foil, was this:
Ice cream cakes seem to be my new thing and I'm okay with it, but I really took this one up a notch.  As a reminder, here was my mom's birthday cake:
Two vanilla cakes with a tri-ice cream layer to please each of us (dairy-free vanilla for me, coconut for mom, non-coconut for dad) and topped with icing from a jar.  Looking back, easy peasy.
Take a closer look at Dads:
Two brownie cakes (boxed brownie mix with Chobani 2% instead of oil and cooked in two round cake pans), mint ice cream (with a small section with dairy-free mint ice cream), and homemade icing (1 container light cool-whip, 1 package sugar-free chocolate pudding + 1/2 the amount of liquid called for) in between each layer and completely covering the cake.  It was so good and definitely a hit with the family!
Maybe too much of a hit…I was asked if I can be hired to make my own birthday cake in April.  😉
Happy eats and fun treats!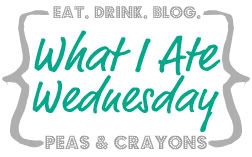 And to ensure there's something healthy in this post, make sure to head over to the FitKit blog today and check out a healthy couscous salad recipe!
What tasty eats have you had lately?
Ever try to make an ice cream cake?