I chipped my tooth yesterday.  No freakin' joke; I chipped it on my way to work while chewing gum.  It was a major bummer and seeing as I have the BIGGEST fear and anxiety over going to the dentist, I'm sure you can just imagine how upset I am over this.  And yes I know, this is where someone should tell me "first world problems" and yes, I know.
But, despite my upset over this, I have to say I am very thankful for having health insurance.  In fact, I'm in the last few months of being covered by my parents health insurance and for that I'm so thankful, especially after the last year or my life.  I'd be even more in debt if I didn't have it.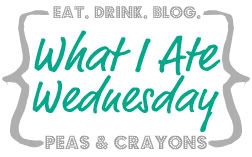 But now onto the fun stuff because it's Wednesday and I get to share all of the yummy things I've eaten, and boy have I had some delicious meals!
Breakfast:
Pumpkin Oatmeal pancakes topped with bananas, peanut butter and a bit of maple syrup.  Hang tight, recipe coming soon!
Lunch: 
While this is my usual yogurt bowl with fruit, the fruit mix made me feel like it was the middle of summer – kiwi, pineapple and grapes.  Delicious!
Dinner:
We consider it a lucky day when my dad agrees to make spaghetti for dinner.  In fact, I believe my mom said it felt like her birthday all over again.  My bowl was mostly spaghetti squash, topped with a bit of regular pasta, homemade sauce, with a salad and glass of wine on the side.
I hope there will be some delicious recipes to share with you guys soon as I've been doing a bit of recipe testing.  Lucky for my parents, they've been enjoying some of the tests. 🙂
Any particularly delicious foods you've had this week?