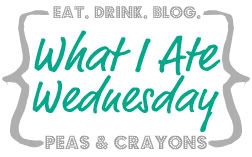 I've been baking again.  It's part of that whole use all (or most of) the food in the pantry before you move thing.  And thankful for me, it's been leading to some pretty yummy snacks.  This week I made chocolate banana protein muffins.  Holy yum!
But before we get to the recipe, I want to share what I've been eating this week.
Breakfast
The best way to finish out any jar of nut butter – oatmeal in a jar.  A sure fire way to get every last tiny bit of peanut butter.  What? I'm an addict.
Lunch
Peanut butter jelly time!  With a side of peach – yummy!
Dinner
A Trader Joes sausage-less Italian sausage + mashed potatoes with roasted tomatoes and green beans.  Deliciousness.
Now on to those muffins!
 Chocolate Banana Protein Muffins
Ingredients:
1 1/2 cup whole wheat flour
1/2 cup chocolate protein powder
1/4 cup unsweetened cocoa powder
2 tsp baking powder
1/2 tsp baking soda
1/2 tsp salt
1/3 cup agave
2 eggs
3 ripe bananas mashed
1/2 cup vanilla non-fat greek yogurt
1/2 cup pecans, chopped
Preheat oven to 375*
Whisk flour, protein, cocoa, baking powder, soda and salt
Mix bananas, eggs, sugar, and yogurt until combined
Fold dry ingredients into wet
Fold in chopped pecans
Spray muffin tin with nonstick spray
Bake for 15-18 minutes until top is no longer wet
Let cool for 5 minutes in tin then move to wire rack to cool completely
And I highly recommend topping with a smear of peanut butter.  What?! I'm an addict. 😉
What yummy things have you made recently?