That's right people, I knocked another thing off my Summer Bucket List this weekend: I went to the Farmer's Market!
You would think living in Southern California where we have year-round Farmer's Markets and fresh produce (and having one pop up next to work 2 days/week), I would go more often but I'm actually really bad about going.  Don't make me feel worse about this, I have enough internal guilt as it is.  But Amy and I were both off on Sunday and we walked our way down to the MarVista Farmer's Market for some fresh produce.
And to look at pretty flowers.
Anyway, I had a few things on my agenda: peaches and cherry tomatoes.  I walked away with both and was a very happy girl.
But more on that later….
First, here's WIAW: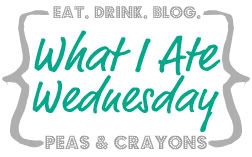 Breakfast:  The usual banana and peanut butter oatmeal with iced coffee, but this time I topped the oatmeal with 1/2 a slice of banana blueberry bread I made the other day.  I'm pretty sure Amy and I have been trying to make a new world record for the fastest we could eat the banana bread.  It took 3 days…we could have made it less.
Lunch: Well, I stink at taking pictures.  And if I was good, I would have taken a picture of the peanut butter and jelly sandwich I made with the walnut raisin bread I picked up at the Farmer's Market.  It was delicious!  Instead, you're stuck with a picture of my peanut butter and jelly on an English Muffin.  At least you know it's still yummy.
Dinner:  But this is where it gets good people.  And I mean reeeeeeallllyyy good!  So good I needed to get the cherry tomatoes at the Farmer's Market so I could recreate this meal only 2 days after finishing leftovers of it.  I mean look at this.
So what is it exactly?
Ingredients:
-1 cup couscous prepared to package directions (I used pearl couscous I got from BLEND and cooked it in veggie broth I had in the cabinet)
-1-2 cups cherry tomatoes sliced
-1 can chickpeas
-1/2 container pesto (I fail at making my own…)
Mix together and chill.  Take a handful or two of arugula, drizzle with olive oil and balsamic and scoop some of your couscous salad on top and mix together.  A-MAZ-ING!
I don't lie so you know it's good.  And if I'm planning to make more after I finish this bowl, you must know it's good.
 Dessert:  I've mentioned that I don't photograph my snacks for WIAW.  It's hard enough for me to remember taking pictures of my meals 1 day a week, so snacks would just be impossible.  But Amy and I had a fun girl's night this weekend and definitely needed to be documented.
How often do you have dessert that's so photogenic? I mean seriously.  It was delicious and we had a great night drinking wine, eating chocolate covered strawberries and watching girly movies. (And yes, I know I shared this already but it's worth repeating.)
What good eats have you had this week?
Any yummy Farmer's Market stops?