I walked up to my office last Thursday morning and this is what I found:
I swear I don't work at a farm stand but rather the massive amount of fruit was for an event that weekend, regardless this sight first thing in the morning made me laugh! 🙂
Speaking of fresh fruits and veggies, there's been a lot of that this week.  I'll be sad when the season of fresh fruits and veggies from the garden ends.
Okay, so the celery isn't from the garden but I freaking LOVE ants on a log. Best.Snack.Ever!
Two rice cakes with egg salad (made simply with dijon mustard, avocado and paprika) and fresh tomatoes.  So.GOOD!
The best use of fresh garden veggies is on a salad with lettuce straight from the garden. Drizzled with a little olive oil and balsamic vinegar and I'm a happy girl.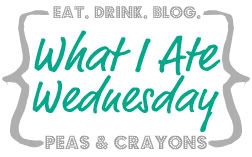 What fresh fruits and veggies have you been eating this week?