I'm going to be honest today.  Honest with you all.  But most importantly, I'm being honest with myself.  Sometimes that's harder to do than you may think.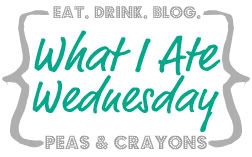 You see, I enjoy partaking in What I Ate Wednesdays.  They can be fun and a great opportunity to share new recipes, snack or meal ideas, but I'm a creature of habit and often eat the same (or similar versions of the same) foods everyday.  It can get old.  Not for me to eat, but to share with others.  I try to change it up from time to time but that doesn't really work.  I like what I eat and I like how it makes my body feel (the most important thing for me).
Where am I going with this?
I like joining in the WIAW fun but I think it's time I cut back.  It's not to say I won't partake anymore, but it's not going to be every week.  It might be a few weeks in a row, or it might be several weeks apart.
Why?
Because for me it's about quality, not quantity.  It's about talking less, saying more.  It's about ensuring I'm putting together posts that I feel good about sharing, not just posts for the sake of posting.
With that said, here's my What I Ate Wednesday…
Oatmeal with banana, raisins and chia seeds for breakfast.
Chobani banana yogurt, blueberries and granola served in a jar and consumed while working a double.
Pizza, beer and football….remind me again why I'm single? 😉
So for those of you who find your way here on Wednesdays, thank you and I hope you'll stick around, come back soon, and enjoy what else I have to say. 🙂
Tell me how your week is going!
Tell me something yummy that you ate!