I had such a productive day off yesterday- I'm so proud of myself especially since I went into the day with no real plan.  So what did I do?
-A kick-butt workout that consisted of a 3 1/2 mile run with 250 lunges built in
-Applying for a few more music-related jobs and getting my online job profiles updated
-Getting my expenses in order…to the best of my ability 😉
-A trim to lose the split ends while keeping the length
-Buying the paint for dresser project number 2 and painting the first coat
-A little relaxation 🙂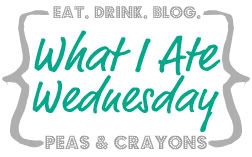 Now onto some of my delicious eats this week…
Chocolate Banana Peanut Butter Protein Smoothie w/ Greens
Veggie omelet topped with salsa and mashed up avocado
Hard boiled eggs with watermelon and banana bread with peanut butter
Coconut Chobani with fruit and granola
*Let it be known that while I haven't been eating my beloved Greek yogurt lately, this was an exception that was worth.every.bite.  Now if only they could make it with coconut milk so it's entirely dairy free!
Trader Joes vanilla coconut milk yogurt with fruit and gluten-free MixMyOwn muesli
Speaking of MixMyOwn, the wonderful people at MixMyOwn allowed me to create my own mix.  I've been eating it with milk and then topped on my yogurt and this was so good!  They have several pre-made mixes to choose from or you can make your own – so fun and delicious. 🙂
How have you been productive this week?
Any new delicious eats this week?