Thank you for your support on yesterday's Sugar Talk.  But I do want to be clear, I'm not restricting myself from sugar entirely, I'm just going to watch how much and what kind I'm eating.  Not because I eat a lot of it (I don't) but because of how it makes my body feel – the headaches and stomachaches are just not worth it to me.
If you haven't caught on, while I'm a fan of all things in moderation, I'm also a fan of eating real foods.  Foods that give me energy; foods that make my body feel good (physically and mentally); and foods that provide me with adequate nutrition.
For me, that generally looks like lots of salads, fruits and veggies, sweet potatoes, nuts and nut butters, Greek yogurt, smoothies, etc.
That's not to say that's all I eat, but I do try to make most of my diet consist of healthy yet delicious options.  This has taken years of trial and error to get just right but it's what works for me, makes me feel my best, and gives me the energy to power through my day.  Well that and a cup of coffee…
But this doesn't mean I don't have room for improvement…especially when it comes to new situations like more intense fitness training or running my first 1/2 marathon.  Seriously!  Learning to fuel my body that is moving more than it ever has before hasn't been easy and as I prepare for this weekends race, I find myself thinking about every bite of food that will go into my body this week, but especially Friday.
I've been trying to think about what I've been eating before my runs, especially before my long runs and I find myself wishing I kept a journal. (Stupid memory…) What was best? The sweet potato pancake I ate before my 10 miler or was that the cause of my tummy trouble? Or was it the Shot Blocks that I've been using for fuel? Should I make a dairy free pizza or nutritional yeast based mac & cheese? What veggies are okay and which veggies will be too much?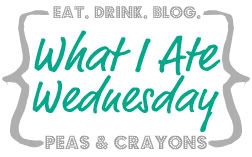 I'm thinking, over-thinking and worrying my way through this week. So as part of this week's What I Ate Wednesday, I want to know this:
What did you eat before a long run or race and how did it make you feel? Would you recommend that food to someone?
**Yes I know you shouldn't eat something new before a long race.  This isn't about eating something new but rather hoping someone suggests something that sparks one of the meals I've been eating and remind me that was my best pre-run dinner fuel.**