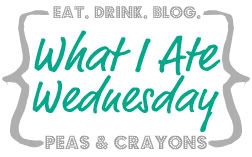 I'm just going to cut to the chase, I've had some incredible eats this week.  I've been trying to change things up a bit, listen to what my body is asking for and just eat a variety of delicious and nutritious meals.
Here's what I've been eating:
My favorite breakfast of Food for Life bread, almond butter, banana and chia seeds.  And while you can't see it, you should know there is always always coffee on the side.
I've been loving hard boiled eggs lately – with a sprinkle of salt, pepper and smoked paprika, and banana bread and fruit on the side.  So good and so filling!
I ran out of hard boiled eggs so I had yogurt with chia seeds and pineapple with banana bread on the side.
There's nothing like my favorite lunch of fruit, yogurt and cereal.  It's definitely my go-to for long days at work. And yes, I eat lunch in my car after my workout at the gym before heading back to the office.
I've been craving sushi for weeks and finally decided to give in.  Don't be fooled, I didn't splurge but rather went for the ever so convenient Trader Joes California roll with brown rice.  And those asparagus spears? Fresh from my parents garden!
I made a giant batch of my couscous pesto salad and tossed it with arugula and balsamic. It never gets old!
When I was trying to figure out what to eat for dinner, the only thing I could think about was Mexican food and avocado.  I remembered we had salsa and decided that a Mexican scrambled eggs sounded perfect.  And that it was!
Clearly some great eats! I'm getting antsy to cook and experiment more in the kitchen but holding off for my own space in order to do that.  Fingers crossed that comes sooner rather than later. 😉
What have you been eating this week?