As you're reading this, there's probably a few different things happening:
1 – Breakfast with the roomie at our favorite little divey breakfast place – S&W Diner.  This has been our birthday place this year, but it seemed fitting for our final morning.
2 – Scurrying around trying to pack any remaining things I realize are mine (I might have been mostly packed by Saturday, but that leaves me a few days to be like "oh wait, that's mine too!" and find it a home in some box somewhere in that…)
3 – Driving to pick up my Dad at the airport, get our rental mini van, eat a quick lunch and make sure all of my stuff can fit between both vehicles.
4 – I'm an emotional mess having a hard time keeping the tears inside…
5 – And if we're lucky, I'm not driving through a downpour of my own tears but rather safely making our way out of California and onto the open road for a few days of travel.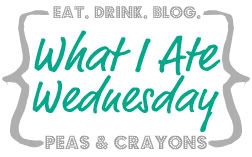 But while I'm busy driving, you can take a look at some of what I've been eating these last few days – can we tell I'm playing the
finish what's in the fridge/pantry
game?
Breakfast:
Whole wheat English muffin with peanut butter and mashed banana with some iced coffee and almond milk.  A classic.
Lunch:
Some 2% Chobani mango with diced up nectarine and almond granola – with a pretty presentation.
Dinner:
I made one final batch of my Pesto Couscous salad to use the remaining ingredients in my pantry.  Just as good as it was before.
As a reminder, I don't take a picture of everything I eat in a day, but I would like to share that I tried my first Boba tea this week while meeting a friend for a goodbye.  I got a chai spiced boba with almond milk – YUM!
And there was a lot of protein muffin consumption this week.  I mean when you make Chocolate Banana and Chocolate Pumpkin protein muffins that are amazing, you just can't help yourself!
What new things have you tried this week?