Let me be clear…"meals today" this is not everything I've eaten today.  I'm a small meal + snacker type so I assure you there was more consumed than just in today's post.
Moving on, here's the extra-delicious MEALS from today…
It's been awhile since I've made Oats In A Jar and these were extra yummy as I sprinkled in some powdered peanut butter while cooking.  It was delicious!!
I haven't been eating much yogurt with my current sickness but nonstop bowls of soup are getting old so I'm happily adding them back in and this bowl was especially delicious.  A mix of strawberry Chobani, fruit salad and raisin crunch cereal.  YUM!
And as I type this I'm eating this giant and delicious salad I prepared for myself earlier, with homemade honey dijon dressing.  YUM!
Definitely some great meals.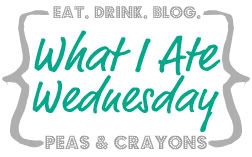 What were some of your yummy eats from the day?