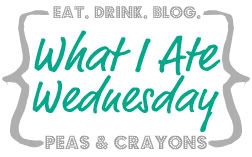 I don't know about you but I'm hungry (as happens the moment I wake up every.single.morning) and just in case you're not, I'm sure you will be after you take a look at some of my eats this week. 😉
Breakfast:
You know what an almost empty peanut butter jar means? Oatmeal in a jar, of course!
Lunch:
 I'm a kid at heart and ants on a log never, I repeat never get old! Alongside hardboiled eggs and banana bread with peanut butter. YUM!
Chobani Pear with banana bread and ants on the log (minus the ants).
Dinner:
Veggie wrap with lots of fresh veggies, hummus and avocado!
Spaghetti with roasted broccoli fresh from the garden – deeeelish!
Dessert:
I really wanted to celebrate National Ice Cream day so I made a chocolate banana soft serve.  Doesn't get any better than that!
What delicious eats did you have this week?