I don't know about where you are, but dang, it's been cold here these past couple days.  But I'm not complaining, I'm still embracing every moment of weather change that occurs in my life since moving from Southern California.  Some people do better in warmer climates, some do better where the weather changes.  I'm one of the latter.
I have to tell you I'm having a pretty great week.  It's always amazing how much your thinking, your mentality and your life can change by simply changing your mentality!
I believe I took this photo from Jef Holm's (from the Bachelorette) Instagram. It's now the background of my phone and I love it.
Anyway, here's a bit of what I've been eating this week.  I'm trying to change things up a bit, can you tell?
-French toast made with an english muffin and soaked in a egg batter with cinnamon, almond extract and almond milk, and topped with fresh sliced strawberries, a little peanut butter and Chobani.  This was SO good!
-A test recipe for banana blueberry buckwheat muffins.  Stay tuned, these aren't ready yet…Yes, I ate them anyway.
-Giant arugula salads with my pesto pearl couscous
-Oats in an (almost) empty peanut butter jar, topped with sliced bananas and raisins.  Alongside a delicious cup of coffee with almond milk.  #partofthiscompletebreakfast 😉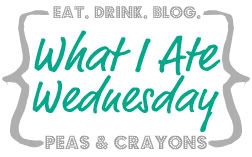 Have a lovely day!
How's your week going?
Any particularly delicious eats? 
Any new recipes I must try? <- I don't have any for you yet. My bad.